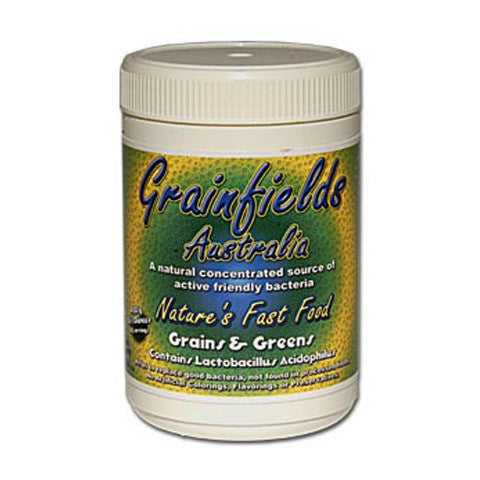 Grainfields Australia
Grains & Greens Powder
Detoxify and improve energy.

Excellent source of amino acids and enzymes

Natural, probiotic food

All natural, organic ingredients
May be used as a meal replacement

Grains & Greens is a natural probiotic food powder, rich in beneficial bacteria, vitamins, amino acids, essential fatty acids and enzymes.

 

Grains & Greens Powder contains lactobacillus cultures, fermented barley grass, alfalfa grass, wheat grass and a wide selection of fermented whole grains and whey protein concentrate. This powder also includes spirulina.

 

Extensive research has shown spirulina to be a truly remarkable food source, with its extremely high protein content and rich reserves of many vital nutrients, including vitamin B12 (essential for vegetarians).

 

Spirulina also contains a formidable array of amino acids, vitamins, minerals and trace elements together with rare, unsaturated fats including gamma- linolenic acid.

 

Many of the densely concentrated nutrients in Spirulina may help protect our bodies from stress and toxins. Scientific studies on animals and humans have shown that spirulina supports immune function, T-cell proliferation and antibody production. These studies have also shown that spirulina has anti-inflammatory properties, and may help to deactivate the toxins in food.

 

Spirulina is known to contain phytonutrients with strong antioxidant properties which support cellular health by protecting the cell membranes and DNA from damage by reactive oxygen radicals. Many of the health benefits can be obtained from eating large amounts of certain fruits and vegetables. However, spirulina has all of these properties rolled into one.

 

Suggested uses

In smoothies, sprinkle over cereal, add to receipes, mix with water or fermented drinks or as a meal replacement or eat by the spoonful.

 

* This product may be used as a meal replacement. *

Ingredients include 

Grains & Greens Powder is made from all-organic and all-fermented ingredients - whey powder, oats, barley, wheat, barley, alfalfa grass, spirulina, linseed, mung bean, maize, alfalfa seed, rice, rye, millet, buckwheat, lemon juice, green ginger, malt and molasses.

 

All of the nutrients in this amazing drink are pre-digested by the naturally occurring Lactobacillus bacteria and are easily utilized by the body.

 

100% fermented to magnify bio-availability.

 

Batches may vary in colour and taste due to the naturally wild crafted ingredients in our fermentation process.

 

Contains no artificial flavourings, colourings or preservatives, animal products, filler or excipients.

 

Made in Australia, Kosher certified.

 

Refrigerate after opening.

 

 Each 450g jar contains up to 60 servings.

  

 

This product is not intended to diagnose, cure or prevent any diseases.
---