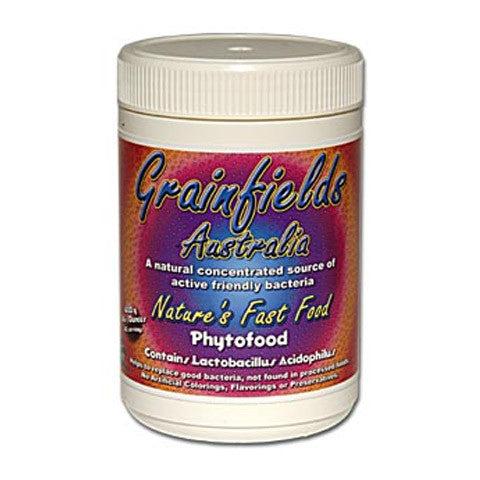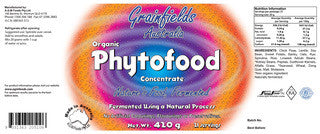 Grainfields Australia
Phytofood Powder
May help balance your hormones.

May help promote a balanced sex drives

May help to regulate your metabolism

May help support optimal brain functioning
Natural, organic probiotic food
Easy to digest
Optimum nutrition
May be used as a meal replacement 

Research regarding longevity, suggests that bodily functions such as hormonal secretions are drying up too soon and early menopause is far too common. It has been found that menopause can be postponed through optimum nutrition and other health practises

Phytofood Powder is a probiotic powder containing lactobacillus – fermented legumes, tubers, seeds, grains and other specially selected ingredients. The ingredients have been chosen to provide a wide range of building blocks that our bodies can use to naturally create hormones and to provide optimum nutritional support.

The proteins from the legumes can help regulate sugar, water and other aspects of metabolism, as well promote balanced sexual activity and proper growth and development of the body, including the brain. Legumes are not only high in protein but also in fat and carbohydrate and they are rich sources of potassium, calcium, iron and several B vitamins.

Seaweed is added, as it contains minerals in the most assimilated form because the mineral and elements are integrated into living plant tissue. Sweet potato is very rich in vitamin A, and adding spirulina makes an especially effective vitamin A source. Sesame seeds are rich stores of calcium and pepitas are valuable sources of zinc and mega-3 fatty acids.

Suggested uses
In smoothies, sprinkle over cereal, add to receipes, mix with water or fermented drinks or as a meal replacement or eat by the spoonful.

* This product may be used as a meal replacement. *

Ingredients include
Phytofood Powder is a superfood made from all-organic and all-fermented ingredients - chick peas, red lentils, soy bean, sweet potato, rice, linseed, oats, barley, rye, spirulina, adzuki bean, kidney bean, pepitas, sunflower kernels, alfalfa grass, sesame seeds, seaweed, maize, alfalfa seed, mung beans, wheat, millet, buckwheat, dong quai and malt, molasses, fructose and glucose.

All of the nutrients in this amazing drink are pre-digested by the naturally occurring Lactobacillus bacteria and are easily utilized by the body.

100% fermented to magnify bio-availability.

Batches may vary in colour and taste due to the naturally wild crafted ingredients in our fermentation process.

Contains no artificial flavourings, colourings or preservatives, animal products, filler or excipients.

Made in Australia, Kosher certified.

Refrigerate after opening.

Each 420g jar contains up to 60 servings.

This product is not intended to diagnose, cure or prevent any diseases.
---