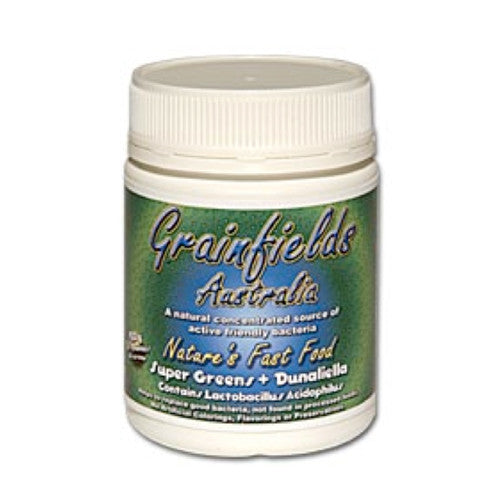 Grainfields Australia
Super Greens
Natural, organic probiotic food.
Provides an all natural deep internal cleanse.
May help prevent wrinkles and maintain skin suppleness.
May help protect our bodies from stress and toxins.
Dairy free.
Extremely high protein content.
Natural, organic probiotic food.
May be used as a meal replacement.
Super Greens is a highly potent mixture of cereal grasses, micro - algae and kelp. These green ingredients are naturally fermented and they encourage rapid growth and reproduction of friendly bacteria.
The unique combination of fermented cereal grasses – alfalfa, barley and wheat with spirulina, dunaliella salina, kelp and chlorella gives Super Greens its high nutritional value, making it easy to digest and rapidly replenish the body. 
The cereal grasses are high in chlorophyll - which provides an all natural detoxification - it has deep cleansing and deodorising properties and is an excellent blood builder food.  
Chlorophyll has the ability to kill certain germs and promote intestinal health – it creates an environment that prevents the growth of pathogenic bacteria. When pathogenic bacteria cannot proliferate, they eventually die off.
Chlorophyll was also shown to be particularly effective in reducing the growth of anaerobic bacteria (ones that can grow without the presence of oxygen).
Another benefit of chlorophyll is its amazing healing effect on cells such as skin and the intestine; and the ability to promote regular bowl movements and at the same time decrease gas.
Super Greens is also high in an algae - dunaliella salina - a highly potent antioxidant that converts to vitamin A and works to protect the body from harmful oxygen radicals by neutralizing their destructive effect on cells and tissues and in doing so may aid in the rejuvenation and improvement of skin cells, the prevention of wrinkles and the maintenance of skin suppleness. Left alone, harmful oxygen radicals can eventually lead to serious health conditions, as well as a loss of skin elasticity and wrinkling.
Chlorella an effective antioxidant is also present in Super Greens. Chlorella is a pure food made from dark green coloured micro-algae and one of the richest
sources of chlorophyll
.
Super Greens also comprises spirulina a truly remarkable food source, with its extremely high protein content and rich reserves of many vital nutrients, including vitamin B12 (essential for vegetarians).
Spirulina also contains a formidable array of amino acids, vitamins, minerals and trace elements together with rare, unsaturated fats including gamma- linolenic acid.
Many of the densely concentrated nutrients in Spirulina may help protect our bodies from stress and toxins. Scientific studies on animals and humans have shown that spirulina supports immune function, T-cell proliferation and antibody production. These studies have also shown that spirulina has anti-inflammatory properties, and may help to deactivate the toxins in food.
Even if you feel you have a very healthy diet, you cannot escape the toxins in the environment - they are all around us. Super Greens is a great food source, to help give you back your health.

Suggested uses
In smoothies, sprinkle over cereal, add to receipes, mix with water or fermented drinks or as a meal replacement or eat by the spoonful.
* This product may be used as a meal replacement. *
Ingredients include
Super Greens is made from all-organic and all-fermented ingredients – barley grass, spirulina, wheat grass, alfalfa grass, oat grass, dunaliella salina, yam, chlorella, kelp and agave.
All of the nutrients in this amazing drink are pre-digested by the naturally occurring Lactobacillus bacteria and are easily utilized by the body.
100% fermented to magnify bio-availability.
Batches may vary in colour and taste due to the naturally wild crafted ingredients in our fermentation process.
Contains no artificial flavourings, colourings or preservatives, animal products, filler or excipients.
Made in Australia, Kosher certified.
Refrigerate after opening.
 Each 150g jar contains up to 30 servings.
This product is not intended to diagnose, cure or prevent any diseases.
---