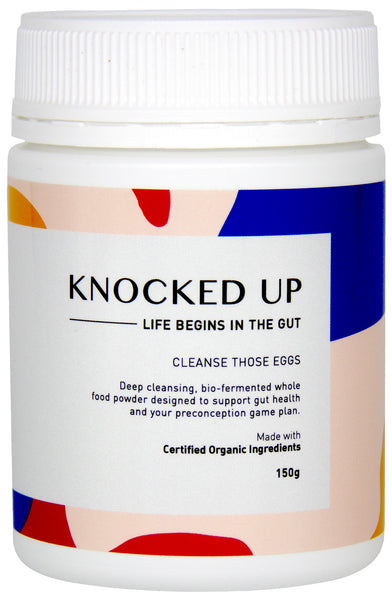 Your Digestion
Knocked Up & Beyond - Cleanse Those Eggs 150gr 2 FOR 1 SPECIAL BUY Save $65!
Regular price
$130.00
Sale price
$65.00
---
This is my very own superfood designed for women at all stages of life 💙.

A versatile deep cleansing, bio-fermented probiotic whole food powder..not just for pre-pregnancy!

An alkalising probiotic superfood packed with natural pre and probiotics essential for feeding the beneficial bacteria in your gut and to maintain a healthy microbiome, because that's the secret to having energy, vitality and glowing skin.  


Support your body's natural detoxification for a balanced happy gut, sustained energy, weight management, enhanced immunity, radiant skin and improved moods. Moving from feeling sluggish to having energy. And who doesn't want that! Your liver and hormones will love you for making the change. Rid those toxins and let life begin! 

'Cleanse Those Eggs' for any woman wanting to cleanse her gut and liver, so as to look good and feel good!

Why Use Me: 

Our unique fermented blend includes immune supporting superfoods such as Baobab Fruit, Queen Garnet Plum and Spirulina plus our deep-cleansing herbs: Oregano, St Mary's Thistle, Dandelion Root and Globe Artichoke to ensure energy and vitality!

How to Enjoy:

Store in a cool dark place. Refrigerate after opening. Serving suggestions: mix 1 teaspoon, once daily with 200mls of water, probiotic liquids, add to smoothies or sprinkle on your breakfast. *If pregnant or breastfeeding please consult your health professional before using. 

We Avoid: 

Wheat, GMOs, artificial ingredients, preservatives and additives.

Ingredients:

Bio-fermented Organic Food Blend (Quinoa*, Buckwheat*, Millet*, Spirulina*, Pepitas*, Baobab*, Chia Seeds*, Queen Garnet Plum*, Linseeds*, Broccoli*, Nettle Leaf*, Oregano*, St Mary's Thistle*, Dandelion Root*, Globe Artichoke*, Ginger*, Pomegranate*, Garlic*, Molasses*), Mixed Berry Fruit Powder (Blueberry, Raspberry, Strawberry), Inulin, Natural Vanilla Flavouring, Natural Raspberry Flavouring, Sunflower Lecithin, Stevia Leaf Extract, Bio-fermented Cultures. *Certified Organic Bio-fermented Ingredients.