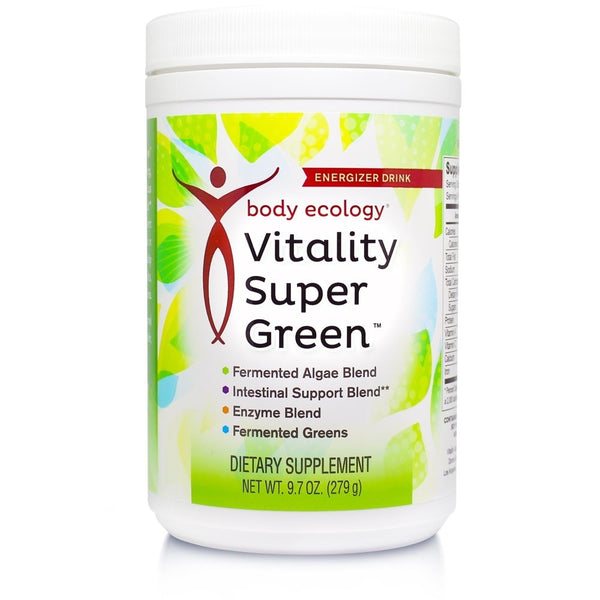 Body Ecology
Vitality SuperGreen - Email Us For How To Order From USA
Nourish your inner-ecosystem.
May help to soothe and rebuild the lining of your intestines
May help to establish and maintain a healthy mucosal lining
May help to rebuild and strengthen your immunity and to create new vitality
What makes Vitality SuperGreen different from all the other green drinks on the market today? Why is ours so special? With a unique focus on nourishing the inner ecosystem, this very alkalizing formula, especially created by Donna Gates, will help soothe and help rebuild the lining of your intestines.
 
A generous amount of nutrient-rich elements like GlutImmune (a covalent bonded glutamine), FOS from chicory inulin, GMO-free lecithin, and aloe vera extract (200:1) help establish and maintain a healthy mucosal lining. We know how important it is to establish and nourish an inner ecosystem. This civilization of beneficial micro flora need healthy food just like you do; and they love algae.
 
So, we've spared no cost in blending together an extraordinary spectrum (or life force) of fermented algae and cereal grasses, fermented green veggies, enzymes, probiotics and food-based supplements providing you the highest quality green drink, to help rebuild and strengthen your immunity and to create new vitality.
 
Vitality SuperGreen is one of our most popular products. It's a must each morning and it makes a great afternoon pick-me-up.
 
It's an excellent source of complete, easily assimilated protein, enzymes, vitamins, minerals, lignans, essential fatty acids, nucleic acids, and beneficial microflora.
 
Newly reformulated to include fermented algae, fermented greens and fermented soy lecithin (**fermented soy is extremely beneficial, as opposed to unfermented soy), Vitality SuperGreen is a proprietary blend of: 
Algae: Cracked-Wall chlorella; Red Marine Algae; Dulse powder (Palmaria Palmata)
Cereal Grass: Barley Grass Juice; Alfalfa Juice
Intestinal Support Blend: L-glutamine; Chicory Root Inulin (fiber); Flax Seed Fiber; sunflower lecithin (GMO free); Aloe Vera Extract (200:1)
Fermented Vegetable Blend: Organic Spinach, Organic Parsley, Organic Kale
Fermented Algae Blend: Spirulina, BioAstin Astaxanthin, Chlorella, Dunaliella Salina, Kelp, Barley Grass, Oat Grass, Alfalfa Grass, Barley Flakes
Probiotics: Lactobacillus Acidophilus, Lactobacillus Delbreukii (caseii, bulgaricus, causasicus, fermenti, plantarum, brevis, helveticus, leichmanni, lactis.) Bifidabacterium Bifidum, Saccharomyces Boulardii, Saccharomyces Cerevisiae
Super Supplement Blend: Rice Bran Extract (Anti-oxidant); Acerola extract; Rhodiola Rosea; Bilberry Extract; Biovin Grapeseed Extract; Beta 1,3 glucan (dual standard)
Vanilla and Stevia
Contains no fillers and no excipients. 279 grams. If taken once daily, one container will last for one month.
Suggestions for Use
Add 2 scoops (or more) to 8 ounces of filtered water. As part of a high energy weight loss program substitute Vitality for your breakfast meal. If you want to gain weight, you'll find Vitality SuperGreen provides that extra nourishment when taken along with a larger meal. Refrigerate after opening.
Although this is a great-tasting drink, to make it a little sweeter add a few drops of Body Ecology's Liquid Stevia.